Private: Single or Couple (e.g., Parents, Pals or Sweethearts)


$90

: reservations with less than 24 hours notice.

with 5th match

$25 each

Transfer Rates: Middlebury/BTV

with 4th match

$30 each

with 3rd match

$35 each

Pair matched

(disparate flights, &/or collection locations)

$45 each

Wake Up Calls

$5

Hint: Improve your opportunity to sharing,
book your ground transfer immediately following your airline reservation.

Do write or call regarding other point to point transfers, e.g., Amtrak.
Besides specializing in providing safe & timely point to point transfers...

...Jessica's has always gone to great lengths; up to and including multiple follow up communications, in order to facilitate maximum shared transportation between BTV and anywhere on Campus. You needn't drag your bags to and from Adirondack Circle -unless ADK is most convenient for you. It has always been our practice to collect/deliver our student clients as near as possible to their dorm room!

Budgetary Tip: Those traveling Via Amtrak should consider utilizing The Vermonter because the Essex Jct Amtrak Station is the only Amtrak Station that is compatible with adding on to the Airport Shuttles. Which tends to account for the bulk of those departing campus via organizations such as ourselves. The same is true of the Greyhound Bus Station which is now even easier because the Greyhound station has relocated to the north end of Burlington International Airport terminal from near downtown Burlington.

Thankfully, we have never caused a student to miss their flight; although more than a few have overslept.

Please keep in mind, when shuttling, your punctuality is as important than ours!

One final critical detail, do examine our Cancellation Policy. Especially specific to vanpooling. Then please use it to your best advantage, because that's why we went to the lengths to spell it out for the world to see.
---
---
Navigate
---
Non Smoking
Drivers/Vehicles
---
---

Courtesy/Info Booth
802/863.1889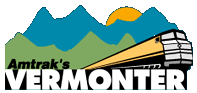 Essex Junction, VT (ESX)
29 Railroad Avenue
Essex Junction, VT 05452
Station Building Hours
(with waiting room)
8:00 am - 10:00 am
7:44 pm - 9:44 pm
Adirondack Amtrak
Port Henry Information
Ethan Allen Express Amtrak
Rutland Station Information


Now Located at
Burlington Int'l Airport
Main: 802-864-6811
Baggage: 802-862-2510
Station & Ticketing Hours
Monday-Sunday:
7:00am-7:30 pm
Holiday: 7:00 am-7:30 pm
Hours Of Operation subject to change. Please call to verify hours before making travel arrangements.

updated 11 May, 2016